In 2022, I spent 221 days away from my "home" in Bangkok.
That's 60.4% of the year I was traveling.
And as I'm getting back to more trading while traveling after Covid… I can confidently say:
"My trading results are better when I'm traveling vs. staying at home."
But why?
I've got all my setup at home including 2 new large monitors, a great mouse & keyboard, a large desk with a view on the 39th floor.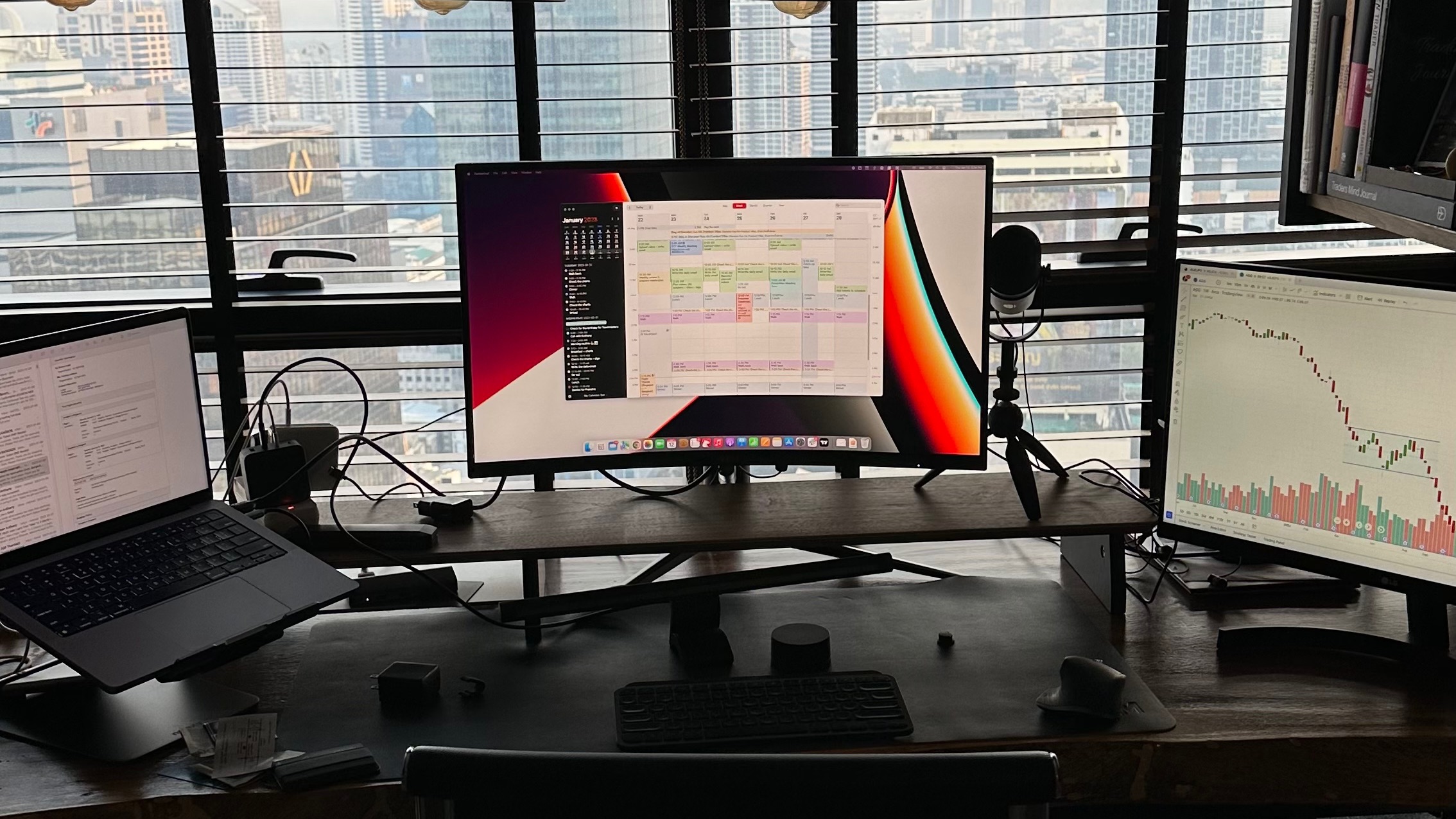 But despite all of my home setup, I do better with only a laptop and/or an iPad.
Here is why…
===
1. Less time-consuming distractions
Cooking, cleaning, and getting distracted means the work on our priorities usually suffers.
Personally, I know I can't be at my best when I watch TV all day… which I rarely do, but it can still distract me from work.
Taking 1hr out of your day to cook a meal might be a great idea.
But it's also a way to increase decision fatigue.
Which means in the end you get less energy for trading & work.
As opposed to when I'm traveling…
I usually find the healthiest restaurants around to order or walk to.
Since I'm in Asia it usually costs less than $40 a day anyway, which is pretty cheap to keep your energy for valuable work.
===
2. Luxury/business mindset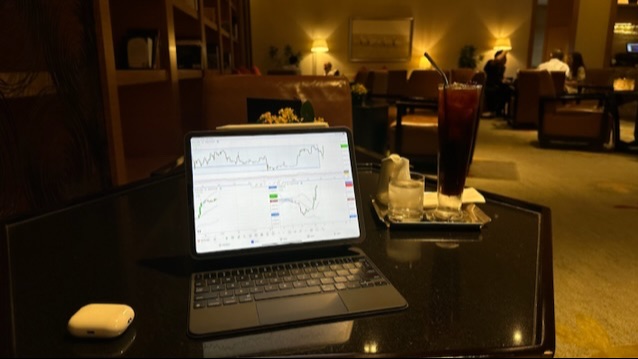 In my opinion, this is the coolest part about traveling.
But it wasn't always like that though…
I used to travel & stay in cheap 1-3 star hotels, where I often didn't have a good work environment.
My cool hack was:
I'd find the "luxury 5-star hotels" around and bring my laptop to work in their lobby lounge & order a cup of coffee.
It would cost me $5-$10 but I'd be in a top-notch environment where I'd usually meet pretty wealthy people.
That by itself is a good motivation to work.
You can use this hack even in your own city… go hang out at the best hotel in town and get some tea/coffee there.
These days, I usually stay at Marriott, Hilton, or IHG hotels and I make sure I get a nice work desk or a cool lobby to work from.
It helps me to keep that good "wealth mindset" when I'm working or at any other time of the day.
===
3. Working 3-4hr a day only
I'd be lying if I said I put in 8hr days of trading/work while traveling.
On most days, I'm usually not working more than 3-4hrs.
The rest of the time, I stay active, explore the location, or learn new skills.
That's because I've learnt to simplify my work to only the most essential high-result tasks.
It's kinda like doing the 80/20.
I took off 80% of what I was doing earlier, often producing no results… and either stop completely or delegated it to one of my assistants or team members.
I usually only have 1-3 important things to do daily.
Like review the charts, run algo backtests, or record videos (for students & YouTube)… it varies day-by-day.
Once I've done that, I'm out of the hotel and spending my time the way I want.
These days I'm working on getting my private pilot license 🙂
It means I don't have to do a bunch of stuff, only to get disappointed because it doesn't get me anywhere.
I only do something if I'm the right person to do it (in my team) or if it's really going to contribute to my future.
A good chunk of my trading is also done with algos which helps free up my time from taking trades manually.
===
Trading while traveling might sound like a cool/relaxing… but it's the result of a lot of thinking & planning that got me to where I am today.
If you want to see day-to-day what I'm working on or where I'm going… I usually post all of it on Instagram along with some trading tips.
You can check out my page and/or follow me by tapping the link below:
https://instagram.com/etiennecrete
Would love to connect & exchange a few messages there if you're up for it!
Keep crushing it 💪📈
~ Etienne Crete
Also: when you're ready, here are 5 ways I can help you…
1. Trade on my funded accounts & scale up your trading here.
2. Create your own profitable trading strategy here.
3. Run my automated trading strategies for hands-off trading here.
4. Scale up your trading by leveraging online prop firms here.
5. Work with me 1-1 to get profitable in as little as 8 weeks here.
P.S. – Currently there are lots of fake accounts pretending to be me on IG… so be careful. If someone messages you asking for money/crypto, it isn't me.